TWO BEDROOM SUITE
from $199 per night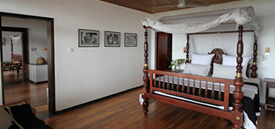 Our Two Bedroom Suite has a size of approx. 112 sqm with teak wooded floor. It is located on the ground floor with access over two private terraces to the garden and with direct private access to the swimming-pool.
Both bathrooms provide a spacious granite tiled shower, a high-class double-washbasins and porcelain lavatories (American Standard). Each bedroom is equipped with a four-poster kingsize bed, a spacious wardrobe with an electronic safe and a daybed. The extensive seating opportunities inside the lounge are perfect for relaxing after the sunbath.
Furthermore, this suite includes three air conditioning systems, three ceiling fans, an iPod station, cable TV with flat screen and one minibar.
January 10 - April, 2021
€329
May & June & September, 2021
€199
October 01 - December 20, 2020
July & August 2021
€246
December 21, 2020 - January 10, 2021
€393