PENTHOUSE
from $380 per night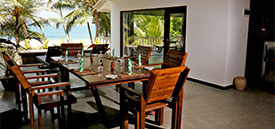 Our Penthouse has a total size of approx. 320 sqm and covers the full 2nd floor. Two huge Suites with spectacular oceanview allow a family of 4 to have their own completely private area with all advantages the attached hotel offers with ist infrastructure. A private staircase leads to the Penthouse from the back of the building and gives easy access to the Swimming Pool.
The architecture is contempory with polished titanium floor. Both bedrooms have ample space. They are equipped with a four-poster kingsize bed, huge wardrobes and a comfortable sitting area, actually big enough to accomodate one or even two children. The bathrooms are very spacious. Additionally to the shower, the Master Bedroom´s bathroom provides a free standing bath tub, of course with sea view. Both Suites are equipped with Air Condition systems, ceiling fan, Mini Bar, electronic Safe, cable TV with flat screen etc.
The spacious outside area between the Suites provides a dining table, sun beds and plenty of lounging opportunities. The Bar area includes a big fridge and a Music System.
January 10 - April 30, 2021
€614
May & June & September, 2021
€380
October 01 - December 20, 2020
July & August, 2021
€430
December 21, 2020 - January 10, 2021
€695