DELUXE
from €105 per night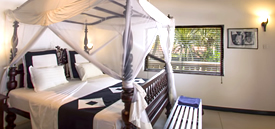 Each room has a size of approx. 58 sqm which includes a spacious private veranda offering spectacular views over the Indian Ocean.
The bathrooms provide a spacious granite tiled shower, a double-washbasin and porcelain lavatories. The bedrooms are equipped with a four-poster kingsize bed, a spacious wardrobe with an electronic safe and a daybed.
Furthermore, the DELUXE rooms include an air conditioning system, a ceiling fan, a minibar and a cable TV with flat screen.
January 10 - April 30, 2021
€174
May & June & September, 2021
€105
October 01 - December, 2020
July & August, 2021
€118
December 21, 2020 - January 10, 2021
€198